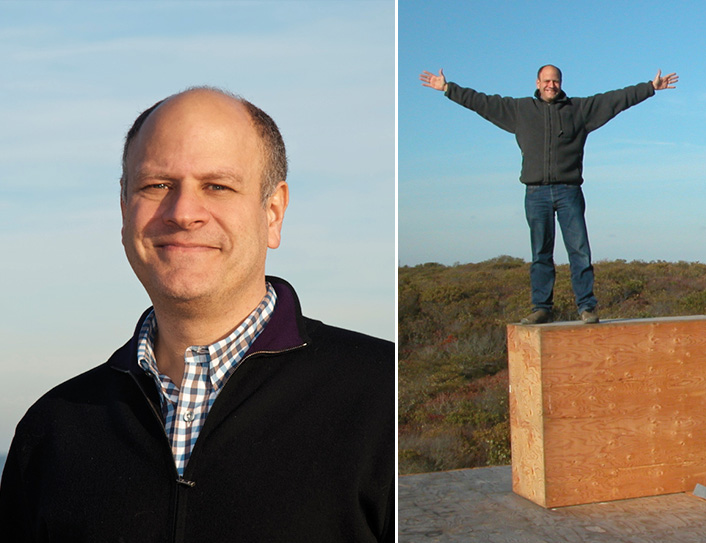 COMPANY PROFILE
Andrew Pollock Architect, PC is a full service architectural firm located in Brooklyn and East Hampton, NY. Since the firms formation in 1992, it has designed and overseen the construction of residential projects in the Hamptons, New York City as well as throughout the Northeast and Florida.
BIOGRAPHY
Andrew Pollock founded Andrew Pollock Architect, PC in 1992. Andrew's residential work is stylistically diverse but he is a modernist at heart. All of his projects are unified by their exquisite attention to details and impeccable execution.
Mr. Pollock, was born in New York and raised in Manhattan, Scarsdale, and Bridgehampton. He is a graduate of the Rhode Island School of Design. Durring his college years, Andrew apprenticed with noted Long Island architect Norman Jaffe before joining Kohn, Pedersen Fox in 1984 upon graduation. At KPF he was a senior designer involved with numerous skyscraper projects in New York, Boston, Philadelphia, Jakarta, Indonesia, most notably as the designer of the Chiefly Tower in Sydney, Australia. In 1991, Andrew left KPF and helped to establish Michael Gabellini Associates in New York. He was the Co-Designer and Project Architect of Jil Sander's award winning flagship store in Paris. Returning to America in 1992, Andrew established his own firm first in Miami and then New York City and the Hamptons.
Since starting his own firm Andrew has completed more then twenty-five residential projects in the Hamptons and Connecticut as well as New York City. His work has been featured in Architectural Digest, Architectural Record, The New York Times Magazine, The East Hampton Star, Hamptons Cottages and Gardens, and Elle Décor. He is a member of the American Institute of Architects.
OUR APPROACH
We believe that each project begins with listening to our client. The architectural process is a collaboration between the clients' programmatic needs and stylistic desires with our approach to design.Our work is defined by the flow of the rooms and spaces, the use of materials, and the originality of the design and detailing. Each project is an opportunity to develop a unique solution.We will help to assemble the best team of contractors and craftsmen suited for each particular project. We maintain a strong site presence during construction. By working in concert with the contractors, we can ensure the quality of your home as well as the smoothness of the construction process. We believe in establishing a ongoing working dialogue with our clients to gain a full understanding of their needs, expectations and aspirations. For us, it is not about following or establishing a specific look for a building, but about concentrating on its function and craft. The Design is determined by the site, the clients' desires and the architects talent. It is the architects' job and in fact joy, to establish a language that creates the home of his clients' dreams.
PUBLICATIONS
New York Times Magazine
March 23 2003
link to the article
Hamptons Cottages & Gardens
June 1-15 2004
Idea House
The East Hampton Star,
Home Book-Summer 2006,
"At Home With the Past"
Architectural Digest
May 2009
"Easy Living in the Hamptons"
link to the article
Hamptons Cottages & Gardens
August 1, 2013
Randy's Retreat,
link to the article
East Hampton Star
August 21, 2015,
"At Sea in a Heather Plain"
link to the article